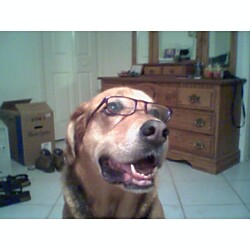 And it hasn't been easy either. Sheesh! Besides being gone for so long and having a TON of stuff to do when I got home, my computer was fried. FRIED! It didn't even hum when attempting to start it up. Not a noise of any sort was detected. So a quick call to my daughter and she had a computer bought and paid for and being shipped to my door. Which then brings me to the fun of installing everything and bringing it up to snuff. Sheesh! The most difficult part was trying to get online. What a pain in the butt to get the computer to read my cable modem! ARGHHHH!!! But finally, they united.
Meanwhile, here's a picture of my handsome boy. He missed me so while I was gone. He's going to be 10 years old this December. I believe, for being such a huge dog, he's looking pretty good. Even if he does need reading glasses now.
I'll be back with more details of all. For now? What a gift just to get to my blog again.